By: Shawn Barnett and Dave Etchells
The Canon 20D is the latest in Canon's broad line of digital SLR models, sporting increased resolution and improved electronics relative to previous models. While it has a similar look, the EOS 20D has upgrades and improvements in so many areas that it's difficult to decide which to mention first. It is the culmination of all Canon has learned over the past year from consumer and professional photographers regarding the cameras currently in the market, from the EOS Digital Rebel to the EOS 10D, all the way up to the 1Ds and 1D Mark II. Naturally, Canon has also kept improving the technology of their sensors and processors over the years, which they characteristically fold into the latest model. The result for this year is the EOS 20D: a camera that is smaller, lighter, and faster with a higher resolution imager, while retaining most of what users loved about the 10D.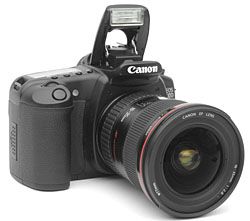 Canon EOS 20D
Built around an 8 megapixel CMOS sensor and incorporating a number of enhancements aimed at improving image quality, the Canon EOS 20D is a significant upgrade from the 10D model. Despite the 10D's well-deserved reputation for low image noise, the new Canon 20D offers dramatically improved noise performance at high ISOs, with the result that its images at ISO 1600 are remarkably clean-looking, and its shots at ISO 3200 are eminently usable. Simultaneous with the increase in resolution, the Canon EOS 20D also brings improved shooting speed, with a 5 frame/second continuous mode and unusually deep buffer memory. For all its technical sophistication though, the camera avoids any sense of needless technology for technology's sake: The Canon EOS 20D is clearly focused on a single purpose: Helping photographers capture excellent images.
Read on, there's a lot of
Canon EOS 20D
ground to cover.