Here are a few good tips to help you capture those magical moments.
Place the horizon off-center
The picture will be more interesting if the horizon is not in the center of the picture. To include a lot of the colorful sky, place the horizon in the lower third of the frame. Remember to keep it straight too.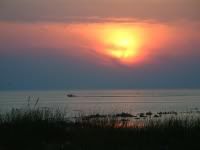 Use night flash
Night flash combines a slow shutter speed to capture the background scene with flash that illuminates a nearby subject. It's especially good for taking a picture of a person with the sunset or city lights in the background.
Include a foreground
Your sunset pictures will be even better when you include a foreground object such as a tree or a person silhouetted against the colorful sky in the background. Use the 'no flash" option on your camera, or it won't be a silhouette.
Keep your lens clean
Dust particles, fingerprints, or other foreign matter can cause considerable lens flare when you include the sun in your pictures.