Although bright, radiant leaves are a big part of autumn, they are still only a part of it. So let's take a look at the many ways of revealing the true essence of autumn.
Free the leaves in your pictures
Soon enough strong winds and heavy rains will knock the remaining leaves from the trees. But until then you'll be faced with the daunting task of photographing whole hillsides of colourful leaves. Why is it daunting? Because what overwhelms you in person may well underwhelm you in a picture. Your challenge is not to convey the majesty but the mood, not every single leaf but the essence of a leaf. Get the hillside if you must, then concentrate on something much smaller, an easily identifiable subject. A cluster of leaves, a single leaf, a fence post or tree trunk surrounded by leaves, leaves on a rock in a stream. All these are manageable and signify autumn.
Catch the grand flower finale
It's the final growing season for flowers. As the daisies, and sunflowers fade, goldenrods, asters, and autumn crocus burst into bloom. Soon all will wither from frost. But now you have a great chance to use the macro mode on your camera.
Although you can photograph flowers outdoors, consider creating and photographing an autumn flower arrangement placed in or beside a window. Or snip off just the heads of several of your favorite flowers and arrange them on a coloured board or a flagstone. You may even want to include some of the more attractive seed pods, such as clematis and milkweed. Or create a special arrangement of your favorite leaves.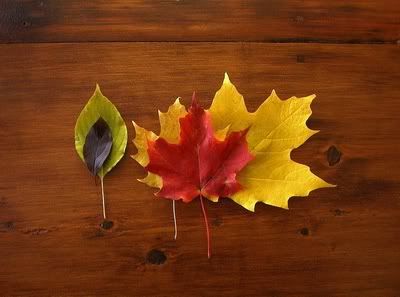 Harvest Time
Farmers' markets, roadside stands, and even the neighbor's backyard garden overflow with the harvest of summer. Pumpkins, squash, gourds, cabbages, garlics, apples, grapes, and the ever present tomato tumble from picturesque baskets topped with cockeyed, handwritten price signs.
Up close, the harvest reveals colourful patterns of globes. At a distance, they testify to a summer of hard work. And don't neglect the people who have provided the harvest. Their pride and relief often beams out from photos of them with their harvest.
Saturate to enrich dull colours
Not every leaf or hillside bursts with brilliance. Some years the leaves are dull. When the colour in your picture is lacking, launch your picture-editing program. Most programs have a "saturation" feature that turns reds redder, oranges oranger, and yellows yellower. In fact, all colours can burst with colour.
Beware of overdoing it unless you're looking for an artistic effect. And a few cameras even have a saturation setting that you can use when you take the picture. So don't let dull colours get you down. Just brighten them up. I also take a little time to clone out any minor flaws in the leaves.
Recall summer days during autumn nights
Night has overtaken day. Soon we'll start and end our days in the dark. Could there be a greater sign of autumn's arrival than the disappearing sun? There's a bright side even to the dark. You will finally have time to sit at your computer and work on all the great photos you took over the summer. Turn your summer photos into colourful prints for your family album and wall display. Give each family member a photo or page of photo